The Track
The Luxmore Grunt takes place on the Kepler Track within the Fiordland National Park. The course is 27km in length  with a long flat section to start, followed by a steep climb up to Luxmore Hut. You return the same way with a steep descent before the long flat return to the finish line. The total amount of ascent and descent across the whole course is 1074m. The highest point of the Grunt is the Luxmore Hut at 1085m.
The Kepler Track is one of DOC's Great Walks. It is clearly marked, well graded and easy to follow. For more information about the Kepler Track check out the DOC website.
Checkpoints
There are four checkpoints, including the finish line, along the Luxmore Grunt course at:
Brod Bay
Luxmore Hut
Brod Bay
Finish Line
Each checkpoint is manned by volunteers from the local community and offers the following provisions:
Water
Pure Sports Nutrition Electrolytes
Bananas
Oranges
Clif Bars
Lollies (jet planes or jellybeans)
First aid equipment and radio communications are available at every checkpoint in the event of an emergency.
The track map below provides an overview of the course along with the location of the checkpoints and toilet facilities.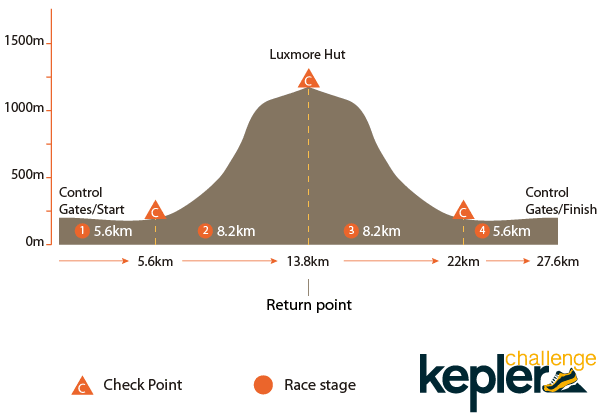 Toilets
Toilet facilities are available at Brod Bay and Luxmore Hut as well as at the start/finish line. Please note that the toilets at Brod Bay are long drops. If you do get caught short anywhere else along the Kepler Track make sure that you go to the toilet well off the track and that you bury your waste.
Your Safety
Your safety is paramount to us. Years of experience have shown us the value of having a set of compulsory gear for all runners – no exceptions! All runners are also required to wear a transponder. There are transponder readers at Luxmore Hut so your supporters can check when you reach the high point by clicking here.
Important Notice – reusable cups
To help keep Fiordland National Park rubbish-free, there will be no disposable cups at the checkpoints along the Kepler Track. Please bring your own reusable cup or you can purchase one at registration.
Luxmore Grunt Prizes and Race Records
Completing your own personal challenge is reward in itself, but for the more competitive among you, click here to see the range of prizes on offer and the current race records.